Find us on Facebook and Twitter
Welcome to the CDXZipStream March 2011 Newsletter
7777
We now offer yearly subscription plans to our zip code databases at a substantial 67% discount below monthly update pricing. Also new is a free, downloadable template for radius analysis, which identifies addresses within a specified radius of a target zip code. As an example application, we've created a template that can determine the location of U.S. nuclear facililities within a radius.
With the recent release of MapPoint 2011, we are now offering discounts for purchase of either MapPoint 2010 or 2011; purchasing links are listed below.
Here are four new blog articles from this past month:
Discounted Yearly Data Subscriptions are Now Available
We've heard from many of you that it would be preferable to purchase data updates on subscription basis rather than monthly. In response to this we are pleased to announce yearly subscription plans to our zip code databases at a substantial 67% discount. A one year subscription is now available for our basic database at $39.95 and premium database at $129.95. This pricing is good for up to 5 user licenses.
Just log on to your cdxtech.com account and press "Purchase Data Update". You will have the ability to purchase a yearly subscription as well as the existing monthly plan. A permanent link to our latest data will then be placed in the "Download Data Files" section of your account which can be accessed for the next year. If you've forgotten your user name or password, please contact us at support@cdxtech.com.
Identify Addresses in a Radius with a Free One-Click Template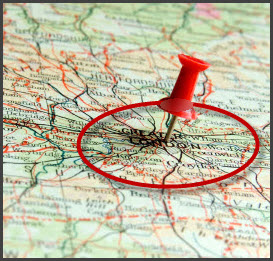 The latest addition to our series of free, one-click Excel templates identifies addresses within a radius of a target zip code. This is a quick and easy way to find customers closest to a store location, assign client calls to sales representatives, and distribute deliveries between distribution centers, to name a few possible uses.
Just enter your address list, specify the target zip code and radius distance (in miles or kilometers), and the template automatically filters the list to identify which addresses fall within the radius distance of the target zip. Distance calculations are performed based on the centroid location of each zip code; Microsoft MapPoint is not required and the template can be run with the trial version of CDXZipStream. As an example application, we also offer this in a template that can identify U.S. nuclear facilities within a radius.
Please visit the links page on our website to download these and other free templates.
Purchasing MapPoint 2010 or 2011
MapPoint 2011 was just released as of March 1, and we now have access to a reseller that offers discounts for both MapPoint 2011 and 2010. MapPoint is the Microsoft mapping software that works with CDXZipStream, performing a variety functions within Excel such as driving distance and time calculations, route optimization, geocoding, map creation, and address verification. You can use the following links for purchase:
If you're considering purchasing one of the new versions of MapPoint but you're not sure which one to go with, please read our recent
blog post
discussing the features of 2010 versus 2011.
March Data Updates


CDXZipStream data feeds were updated as of March 24. There were 499 changes to the zip code database. If you would like to update your database to reflect these changes, click on the "License Information and Software Updates" icon on the CDXZipStream toolbar, and select "Data Updates" to login to your account. If you've forgotten your user name or password, please contact us at support@cdxtech.com.

We hope you find the information here helpful for your organization. You can contact us with your feedback and suggestions by replying to this email.
The Team at CDX Technologies
In This Issue
Discounted Yearly Data Subscriptions are Now Available
Identify Addresses in a Radius with a Free One-Click Template
Purchasing MapPoint