This is part of our "Close Up" informational series highlighting how you can get and use address, zip code, and geocode data to help grow your business.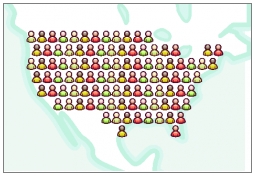 Know thy customer is a tried and true rule of business, and there's a wealth of demographic data to choose from, both in the public domain and private databases, that can help you get a thorough knowledge of your customer base. But where do you begin?

The most common approach is to use demographics by zip code, which is readily available from the U.S. Census. Since zip codes cover a small geographic area, and just about everyone has one as part of their mailing address, it makes sense to use zip codes as the starting point for market research. The on-line tool American Factfinder on the Census Bureau website is an excellent source for demographics when you need data for a limited number of zip codes/

For larger geographies covering many zip codes, we recommend our product CDXZipStream, which quickly and easily provides hundreds of data fields for demographics by zip code, as well as by city, county, state, area code, and Core Based Statistical Area. You can click on the video below to see how it works:

Demographic Data in Excel

Here's a sample of the kinds of zip code demographics CDXZipStream provides:





Now let's take a look at an example that illustrates how demographics by zip code can help you connect with customers.



Example: Customer Demographic and Spending Analysis Using Zip Codes

A major retailer routinely collects information from their customers based on their home zip code.

They wish to perform a zip code analysis using their internally-gathered information along with census demographic data, to determine how they can better understand and expand their customer base.

Here is a sample of the customer buying data the retailer collected (based on a single store located in zip 75238):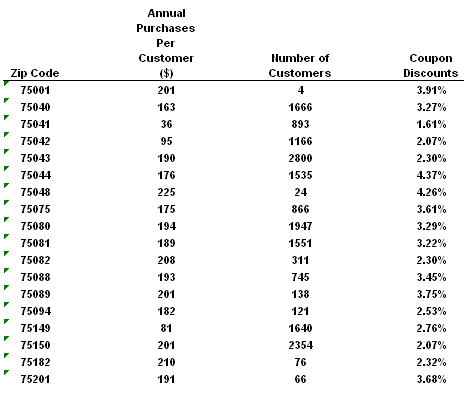 Using CDXZipStream, demographic data for each zip code was obtained in several key areas. CDXZipStream was also used to calculate the distance of the zip code from the store location. After sorting by distance, the data are: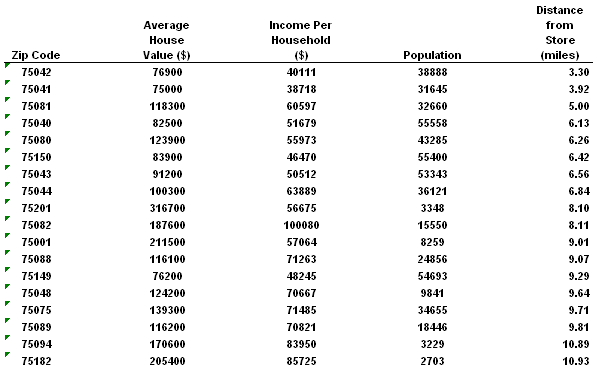 Excel charts of all available data reveal interesting trends, with two examples shown below:
Customer spending habits can be a function of many factors, but some clear trends for this store can be seen in the data. For example, expenditures per customer start to rise significantly at household incomes above $40,000, although there is an apparent leveling off at household incomes of about $60,000. Interestingly, the use of coupons also peaks in this range, with most coupon use in the range of about $40,000 to $70,000 household income. In this particular case, it was found that newspaper coupons were less effective at lower income levels - a test case using direct mail coupons to select zip codes within a 10 mile radius resulted in significant increases in expenditures at income ranges between $30,000 to $40,000, effectively expanding, at low cost, the customer base for this store.
This is just one example of how demographics by zip code can help retailers and other businesses better understand and reach out to customers. Household income, housing value, school enrollment, marital status, and other demographic variables, can provide real insight in the development of an effective marketing strategy, and in turn, help maintain and grow your customer base.