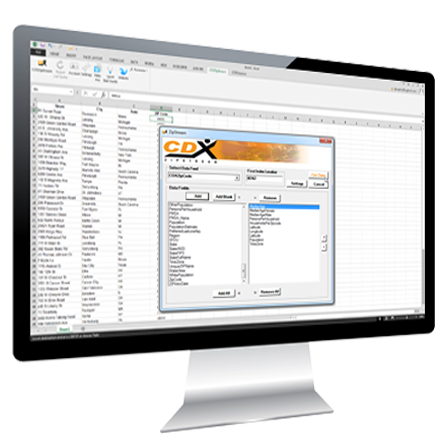 Works in Microsoft Excel
Your data doesn't need to leave your worksheet. Do all your analysis in a software environment you already know and can easily customize. Compatible with Excel for Windows 2010 and greater.
Patented interface
Using our simple interface, specify the data you want and where you want it. Use the CDXZipStream commandbar in your worksheet or right-click on any cell to bring in data or calculate formulas.
Compatible with Bing Maps, Here, Caliper Maptitude and Microsoft MapPoint
World-wide geographic coverage is provided by the Bing Maps web service and Here. Desktop software by Caliper Maptitude and Microsoft MapPoint is also supported.
One-step calculations
Copy and paste to make calculations of lists in one simple step. Free pre-programmed templates help automate common tasks for large data sets.
Pick your version
Multiple product versions give you the option to purchase only the features or data you need, and it's easy to upgrade as required. Up to 14 data feeds are available in a single version.
Routine data updates
ZIP and postal code updates can be downloaded from within the application without leaving Excel.
Automatic updating
Your spreadsheet updates automatically using embedded CDXZipStream formulas that link to the data.